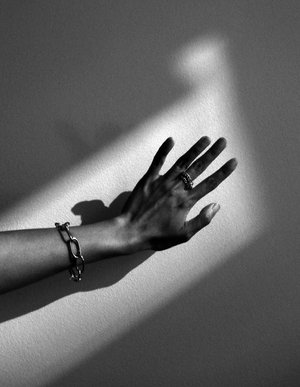 ADORN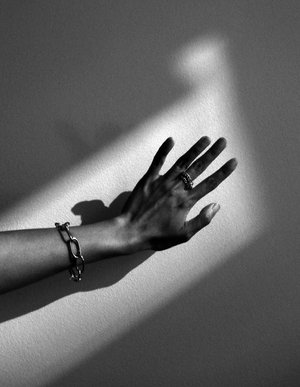 My Gran is 94. She loves to sing and always sang in her church's choir. She has a gold music note charm necklace that I used to love to play with while sitting on her lap. The rounded part of the music note was domed and fit perfectly over one of her moles, which she lovingly allowed me to do. I've always wanted that necklace and not just because it's pretty. It means something.  
I prefer to express my style through adornment rather than apparel. The pieces become representative of meaningful moments in life - successes, rewards, struggles, gifts, talismans, people. Most talk about the jewelry their grandmother wore with such a fondness. It's tied to memory and desire. I love clothes, but I don't connect with them the way I do jewelry.
I discovered Loren Stewart's jewelry about 5 years ago. The first piece of hers that I fell in love with was the Safety Pin Earring. She is well-known for this piece, as she was one of the first to take this punk symbol and elevate it. Since then I have made a little ear party collection and had one custom soldered to a choker chain. I bought them for myself at certain times in my life that they are now inextricably tied to. From this spring collection I have added the Pearl Friendship Safety Pin. Remember making friendship pins on your sneakers? Well, this one is 14k and pearl... for the grown. 
I love that her pieces are minimal yet edgy and nostalgic. They are perfect for everyday wear - "comfort jewelry". Don't you just love that expression - "comfort jewelry"? I wear at least one Safety Pin Earring every day. Safety. Comfort. My Gran's lap. You see where I am going here? Perhaps someday my grandkids will play with my earrings while sitting on my lap. That is a very comforting thought. 
On her latest Spring Summer 2021 collection:
Draws quietly from within—looking closer to home rather than finding inspiration in a distant land. The late afternoon light dappled on the hillside in East Los Angeles, the comforts of home and a more simple take on how we approach our daily life. There is a collective urge toward emotional comforts which was a key aspect in designing this collection. We call it "comfort jewelry," a minimal and stripped down aesthetic. Everyday chains and hoops, the most essential, forever pieces that you never tire of. Jewelry as a tactile object you experience, and functions as a tool that expresses who you are without having to say anything.
The collection takes us to the heart and soul of the brand—simplicity and optimism. LA is a constant inspiration, and especially during the pandemic, we feel an even greater sense of appreciation for our community and home. Even though it's a difficult time, there is a palatable optimism in the city. We integrate this optimism into jewelry, in the design and the ritual of adornment, a daily practice of self-care to inspire feelings of well-being. Jewelry transforms your mood, the gold brings warmth and shine to your countenance, it illuminates, it uplifts. Jewelry is a totem, the weight of a charm or chain is comforting, a reminder that everything is going to be ok, or a simple distraction to make you smile, and feel cared for.
We are highlighting chains; from delicate sultry chains, to bold statement chains, all meant for personalized styling to stack and layer, on wrists, necklines, and ankles. A stacked ankle feels luxurious, fun and unexpected. 
In somewhat isolating and austere times, the hope is that the collection offers an opportunity to turn the mundane into something special, whe
ther you're working from home or stepping out for the day. Inspired by the simplicity of classics that bring comfort, we look to the past for greater understanding with an eye towards the future.