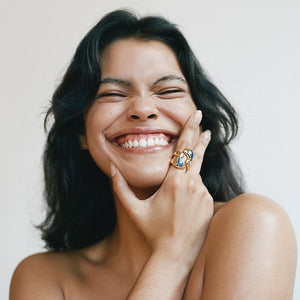 Portafortuna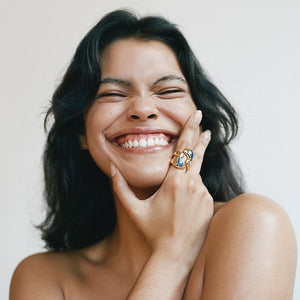 I am thrilled to welcome Pamela Love demi-fine and fashion jewelry collections to fig. a! 
Pamela Love's demi-fine collection of delicate talismans was a perfect entry point to the shop - jewelry that is "meant to be layered and worn daily to tell your story all made with recycled 14kt gold." 
(literally "lucky horn" in Italian) pendant sparked nostalgia in me. Like my Gran, my Nonna is still kicking in her 90s. A tough lady, sometimes referred to as "The General", loved her some sparkly things. Friday nights were for sequin bedazzled outfits, costume jewelry and dancing at the Sons of Italy. But it was her daily pieces of jewelry that were my favorite - her diamond encrusted horseshoe ring, her silver, chain-mail like cigarette pouch and, of course, her Italian horns. Proud
 to have my own now.
About Pamela Love Native New Yorker Pamela Love began making jewelry in her Brooklyn apartment in 2006.
Pamela Love's creations come from an intuitive point of individual spirituality. She is heavily influenced by astronomy, astrology, alchemy, early American and Mexican silver traditions, and architectural motifs throughout the world. Her inspirations are steeped in American folklore and symbolism, while also exploring global archetypes and iconography resulting in her own immediately-recognizable aura of modern urban mysticism.